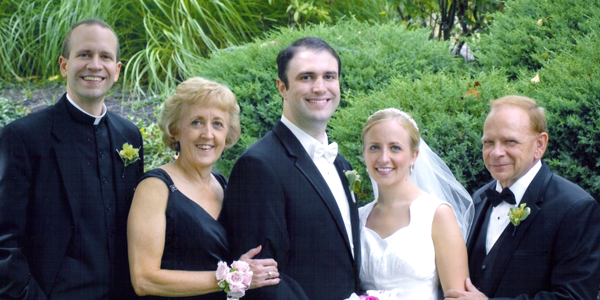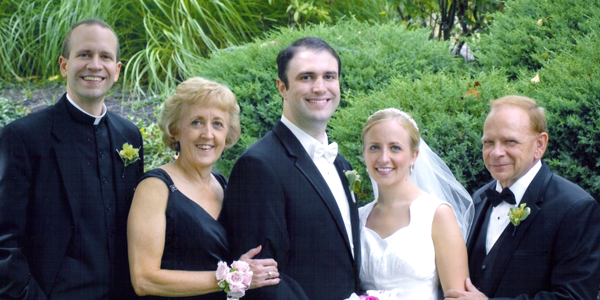 Spring 2022
Jim and Chris Endres have always appreciated and supported Mount St. Mary's Seminary & School of Theology (MTSM). Chris remembers being about 12 years old when her brother, Al Lauer, enrolled as a high school student at St. Gregory's Seminary, which was located at the current site of MTSM. Chris's brother continued on to MTSM before being ordained in 1974. That same year, he presided at her marriage to Jim.
In a similar turn of events - 35 years later - Jim and Chris' son, David, current Dean of Mount St. Mary's Seminary, graduated from MTSM. Shortly after his ordination in 2009, he presided at the wedding of his sister, Beth.
"God has always been instrumental in our lives," said Chris. "We feel it's our responsibility to give back for what God has given us."
Jim and Chris are long-time donors to MTSM. Most recently, they made the decision to name a room in Fenwick Hall, which was dedicated in 2019, in honor of their son. The couple is funding their gift using an IRA Qualified Charitable Distribution (QCD).
"If you don't need the funds to live on, a QCD is a great way to increase charitable giving to causes you feel passionate about," said Jim. "It's one of the most effective ways to give because it allows you to use funds that have not been taxed and remain untaxed to the charity."
As well as donating to MTSM, Jim and Chris established a partial scholarship for an eighth grade student who is planning to attend a Catholic high school.
"We have to focus on our faith every day. That includes receiving the sacraments and being involved in the formation of those who attend MTSM through prayers and support," explained Chris. "If we don't have priests, we don't have Catholicism - MTSM is our future."